Sergio Aguero has revealed that his decision to quit football for his health was a key reason after a previous heart attack problem.
Argentine striker Sergio Aguero has revealed to Barcelona. After announcing his retirement on Wednesday. After suffering an irregular heartbeat for the past month and a half. That the 33-year-old striker had to choose this path for his health. 
'This press conference communicates that. I have decided to stop playing football. It was a very difficult time. But my decision was made for my health. That's the main reason. It's because of the problems. I've had for the last month and a half. I am in great care from the medical staff. Which did the best. And they tell me the best thing is to stop playing.'
'About 10 days ago I made that decision. I want to tell everyone that I do everything possible to have hope. But there is not much hope.'
'I am very happy with the career that I have. I've always dreamed of playing football.My dream is to play in the Primera Division (La Liga). I never thought I would go to Europe.I want to thank everyone to Atletico Madrid. Who bet on me at the age of 18 that I will do well in Europe. To the people at Man City. You know how I feel about Man City, they have taken great care of me and for Barca this team is great for me and without a doubt. It's one of the best teams in the world.'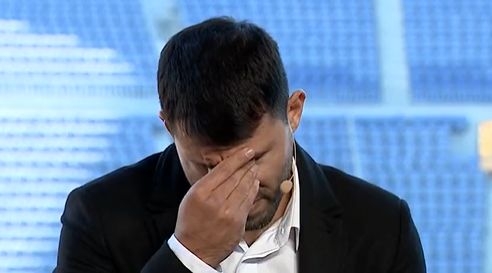 Sergio Aguero has revealed
'I am very grateful because they treat me so well. And for the Argentina national team that I love the most. I am very grateful to the people here. People who work with me for my teammates The latest is someone at Barça'
'I think I did my best to help them win. I want to thank my teammates for helping me grow. Now I'm leaving with pride.'
'I don't know what awaits me in my next life. But I know there are many people who love me. And I'm grateful as well.'
'For all the press here Most of them treat me very well. but don't worry It's their job.'
'I will always remember the wonders. So thank you all' Kun said goodbye with tears in his eyes.